Front Page
Search
Popular
Off-Site
Free Content
My Visit
| | | | |
| --- | --- | --- | --- |
| Miscellaneous | | | |
TGW Releases Two New DVDs
Character Design and Modeling & Hard Surface Shading and Texturing
| | |
| --- | --- |
| | 3Dup.com - July 09, 2009 - 20:55 |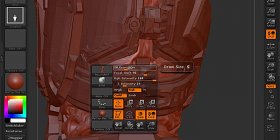 The Gnomon Workshop released two new titles for 3D artists: Hard Surface Shading and Texturing with Neil Blevins and Character Design and Modeling for Next-Gen Games with Vitaly Bulgarov. Neil, a Technical Director at Pixar Animation, has put together a very thorough DVD that explains his shading and texturing pipeline for hard surface models. The lecture is broken up into two parts: a detailed breakdown of his process followed by the application of the process to the shading and texturing of a "mortuary" robot that collects and recycles dead bodies. Vitaly Bulgarov, a 3D artist at Blizzard Entertianment, shows his process for making his "Rabagh" character which was inspired by Gears of War and is a great example of his organic-mechanical style. Using XSI, ZBrush and Photoshop, Vitaly covers everything from concepting in both 3D and 2D applications to presenting the high-poly model.
Character Design and Modeling for Next-Gen Games with Vitaly Bulgarov
Page: [ 2 ] [ 3 ]
[

Views

: 2,374 | Refers: 0 | Prints: 135 | Rate: 0.00 / 0 Votes | Posts: 0]
Cloudy with a Chance of Meatballs. Second Trailer
July 06, 2009 - 21:50

It is a 2009 computer-animated film produced by Sony Pictures Animation and distributed by Columbia Pictures. This movie is inspired by the children's book of the same name ...
District 9. Intriguing New Trailer
July 09, 2009 - 21:44

District 9 is based on Alive in Joburg, a short film directed by Neill Blomkamp, Sharlto Copley, Simon Hansen and Shanon Worley. Copley also portrayed one of the interviewed ...