Front Page
Search
Popular
Off-Site
Free Content
My Visit
| | | | |
| --- | --- | --- | --- |
| Miscellaneous | | | |
The Mill: so Professional as always
| | |
| --- | --- |
| | 3Dup.com - September 15, 2009 - 23:27 |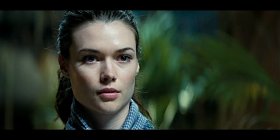 It opens with a woman walking passed a film studio lot late at night, noticing that the security guard is sleeping in his booth she sheepishly walks through the gates. There she begins an incredible journey exploring behind the scenes of the studio back lot. From magical creatures and Aztec Indians sitting around a fire, to a space ship, dramatic police chase, a wild orangutan in the rainforest to a charge of cavalry men on horseback, she sees it all. The tag line simply reads "Discover the World of Virgin TV".

Lead 2D Barnsley explains the spot's main challenges, "The style and gentle pace of the narrative, dictated that all the FX and action of the characters should be relatively understated. This presented us with an interesting challenge of telling a big story with very subtle movement. The climax of the film sees a police car transform into a UFO.


This story was told in effectively, just three scenes. We found it very important to reduce the movement and transformation to a minimum, to help create scale and weight, in keeping with the rest of the film. Of course designing and building a CG UFO is very much a blank canvas with unlimited opportunities. After numerous variations and styles, we finally settled on a design which we felt is in keeping with the rest of the film. We spent a fair amount of time experimenting with lens flares and camera aberrations to help bed the UFO into the scene.
Page: [ 2 ] [ 3 ]
[

Views

: 2,999 | Refers: 0 | Prints: 176 | Rate: 0.00 / 0 Votes | Posts: 0]
Game Developers speak about DirectX 11
September 15, 2009 - 22:48

Game Developers are implementing in their new titles and updates, the new DirectX 11 API which will be released as one of new features of Windows 7 next October. At this ...
Flame and Flare Overview by Autodesk
September 14, 2009 - 23:04

Autodesk Flare, the software only creative companion for Autodesk Flame, allows post production facilities to scale their business by giving them more access to the visual ...
When Lighting Control is Total: Alex Roman
September 16, 2009 - 12:08

Alex Roman uses 3DS Max and VRay for Rendering, Photoshop for Texture work, AfterEffects for Compositing and Color Grading and Adobe Premiere for Edition. He born in 1979, in ...