Front Page
Search
Popular
Off-Site
Free Content
My Visit
| | | | |
| --- | --- | --- | --- |
| Games | | | |
Behind Scenes of Transformers - The Game Cinematic
Blur Studios speaks about the Making of this Cinematic for the Activision Game
| | |
| --- | --- |
| | 3Dup.com - January 18, 2009 - 22:39 |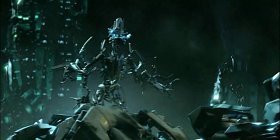 The Game follows the recent film's basic plot: Autobots and Decepticons travel to Earth to fight over the AllSpark, which is the device that gives life to all Transformers. The Autobots (specifically Bumblebee) befriend and must defend a young man named Sam (played in the film and voiced in the game by Shia LaBeouf) who has the AllSpark, and the Decepticons, led by Megatron, destroy everything in their path while trying to get the device back from Sam.
More Information at:
www.blur.com
. Image and Videos Courtesy of Blur and Activision
[

Views

: 3,001 | Refers: 0 | Prints: 252 | Rate: 0.00 / 0 Votes | Posts: 0]
Autodesk Games Show Reel Call for Submissions
January 17, 2009 - 20:05

Autodesk is accepting submissions for your recent video-game cinematics, trailers, in-game sequences, or animations created with any or a combination of the following ...
Shilo's Deviant Fable. Sheepmen vs Demons
January 14, 2009 - 23:17

The Poe-esque fable follows the misadventures of the bland, conformist Sheeple as they fall foul to all manner of grisly deaths at the hands of the rebellious Deviants. The ...
Planet 51 Trailer
January 21, 2009 - 21:50

This CG Movie is a funny reverse alien invasion story centered on the little green people with antennas who inhabit Planet 51, and who live in fear of being invaded by beings ...