Kenji Kawasawa is a freelance motion designer based in Tokyo who uses Cinema4D for animation and Maxwell for rendering. The first video in our montage "LED Remix", is based on a japanese historical drama and about Zatoichi, Seven Samurai of Akira Kurosawa. As Kenji Kawasawa said: "I like the mixing between the old and new things". This film was made with Trapcode Form plugin for Adobe After Effects.
Kenji uses Mograph for Cinema 4D in the second one, "Spangle": wave forms and reflections over nice geometrical structures, and in the third too, "Octopus": a manga styled underwater scene with a personal texturing touch and mysterious atmosphere.
The penultimate video, "Esperanza", a spanish term for "Hope" [his wife speaks a little bit of this language], is a relaxing video with a grey landscape and orange floating crosses where Kawasawa impresses a bucolic atmosphere. It is what we could call: "something between the cold gray winter and the sparking of the hope in form of positive ideas".
At the end, "106 Balloons" gets you look up to the blue sky with a great lighting skill. Floating balloons and much much air around them. Feel it. Here we go!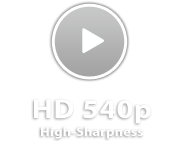 Image and Videos Courtesy of Kenji Kawasawa. Video Montage and Encoding: 3Dup.com