Front Page
Search
Popular
Off-Site
Free Content
My Visit
| | | | |
| --- | --- | --- | --- |
| Hardware | | | |
Mythology Meets Visual Feast in Beowulf with Nvidia
NVIDIA Quadro Professional Graphics Boost the Creative Pipeline at Sony Pictures Imageworks in Latest All CG Action Movie
| | |
| --- | --- |
| | 3Dup.com - December 10, 2007 - 23:59 |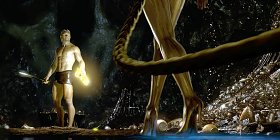 How can you use technology to bring a 1,200-year-old epic poem about heroes, monsters, and dragons to life? That was the challenge facing director Robert Zemeckis and Sony Pictures Imageworks in bringing the story of Beowulf to the silver screen.

Zemeckis and the Imageworks team used the Performance Capture technology pioneered in The Polar Express, which was also used again in the creation of Monster House, to tell the tale of the hero Beowulf (played by Ray Winstone). In the story, Beowulf comes to the mead hall of King Hrothgar (Sir Anthony Hopkins) to kill the monster Grendel (Crispin Glover) who has been plaguing Hrothgar's kingdom. After dispatching Grendel, Beowulf must face the wrath of Grendel's mother (Angelina Jolie), who seeks revenge for the death of her son. The story is based on the epic poem that is considered to be the first great work of English literature.


Performance Capture uses technology to track the body movements and facial expressions of the actors; the data is then collected and used to create an animated sequence based on the actors' performances. A particular challenge in making Beowulf was the sheer size of the production. With some scenes having over 70 characters, each actor's movements had to be captured, tracked, and mapped onto an animated character. Textures and lighting were then applied, giving the director real-time interactivity during the camera layout process.
Page: [ 2 ] [ 3 ] [ 4 ]
[

Views

: 5,700 | Refers: 0 | Prints: 320 | Rate: 0.00 / 0 Votes | Posts: 0]
The Embassy Uses Modo 301 for Short Film Terminus
November 21, 2007 - 21:04

Luxology® LLC announced that The Embassy used modo™ 301 for "Terminus", a new short film by director Trevor Cawood. The visual effects team made extensive use of modo ...
Next Limit Wins an Academy Award
January 12, 2008 - 18:58

The Academy of Motion Picture Arts and Sciences has granted a Technical Achievement Award® to Victor Gonzalez, Ignacio Vargas and Angel Tena for the creation of the ...