Front Page
Search
Popular
Off-Site
Free Content
My Visit
| | | | |
| --- | --- | --- | --- |
| Games | | | |
The Making of The Witcher: Rise of the White Wolf
Published a Second Video Montage with Scenes about the Cinematic
| | |
| --- | --- |
| | 3Dup.com - April 28, 2009 - 20:37 |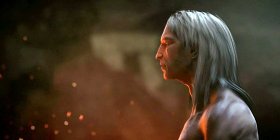 The game tells the story of Geralt of Rivia, who at the opening of the game is tasked to cure the daughter of King Foltest of a curse which causes her to transform into a feral monster. Geralt successfully cures her, introducing the player to the nature of witcher-work. A period of years mysteriously pass ending with Geralt being transported to the witcher stronghold of Kaer Morhen by fellow witchers who had discovered him unconscious in a field. Geralt remembers almost nothing of his life before returning to Kaer Morhen.



The game's story is separated into five acts, each representing a different area and distinct set of quests. Geralt meets many former friends and foes throughout the plot who help him to recover information about his mysterious past. Through the storyline, Geralt discovers that he had died five years earlier while attempting to defend an oppressed group of non-humans from a racist mob. He also learns that he is actually a renowned witcher referred to in prose as "The White Wolf."
Page: [ 2 ]
[

Views

: 2,844 | Refers: 0 | Prints: 214 | Rate: 0.00 / 0 Votes | Posts: 0]
Houdini 10 Released
April 27, 2009 - 00:27

Side Effects Software announced the immediate release of Houdini 10. Designed to make artists more productive while equipping studios with the most powerful tools in the ...
Video: Cartoon Network Rebranded in 3D
April 29, 2009 - 21:57

Capacity is a motion design studio / strategic agency focused on concept, branding, and visual storytelling. For the past five-plus years, the studio has relied on Cinema 4D ...