AMD announced five new high-performance ATI FireGL™ workstation graphics accelerators for CAD, DCC and medical imaging professionals. The ATI FireGL V8650, FireGL V8600, FireGL V7600, FireGL V5600, and FireGL V3600 graphics boards are based on the next-generation ATI graphics processing unit (GPU) with an innovative unified shader architecture featuring up to 320 individual stream processing units. These new boards deliver acceleration of DirectX® 10- and OpenGL 2.1-based professional applications resulting in increased performance of more than 300% as compared to the previous generation of product.
"The rich feature set of these new ATI FireGL boards represents AMD's industry-leading GPU engineering excellence and provides unprecedented power for design professionals," said Rick Bergman, senior vice president and general manager, AMD Graphics Products Group. "AMD's ability to continually offer graphics innovation at the high end, while delivering full-featured products at the entry level reflects our strategy of enabling the ultimate visual experience for professional designers and those who consume their content."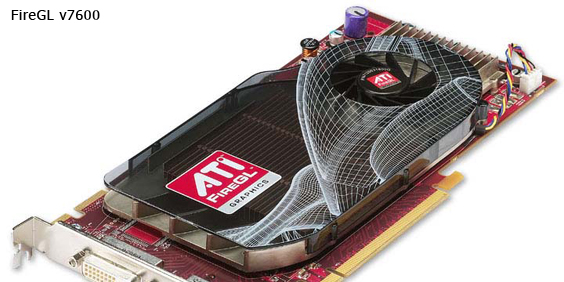 Several key features distinguish the new series of ATI FireGL workstation graphics boards. An industry-first 2GB of on-board memory enables engineers and designers to interact with larger datasets and more complex models. The ATI FireGL unified shader architecture maximizes graphics throughput for today's engineering and animation software. During performance tests, the ATI FireGL V5600 demonstrates more than 300% the performance of the ATI FireGL V5200 running the Viewperf 9.0.3 UGS Teamcenter Visualization Mockup (tcvis-01) benchmark test.