Front Page
Search
Popular
Off-Site
Free Content
My Visit
| | | | |
| --- | --- | --- | --- |
| Miscellaneous | | | |
A 3D Exploration of Picasso's Guernica
CG Recreation made by Lena Gieseke in the University of Georgia, US
| | |
| --- | --- |
| | 3Dup.com - February 04, 2010 - 16:20 |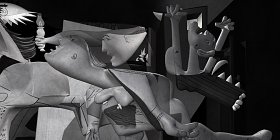 The words of Lena Gieseke about her work are so precise and brilliant that we would like to mention of them from beginning to end: "The idea of creating a 3D version of an influential artwork came out of doing jigsaw puzzles of famous paintings. When you assemble a jigsaw, you study a painting in great detail and you become aware of the very lines, shapes and colors that the painting is composed of and how these elements merge to create a unified expression. Through the puzzle, you explore the artwork, examining details your eye might not have caught otherwise. Your experience of the painting is intense, aroused by the action of puzzling, but expanded and strengthened by your own fantasy.


This 3D rendering of Picasso's Guernica offers a similar experience. The actual spatial immersion into a painting is a powerful way to prompt contemplation of its many facets. My project is not only a creative piece of work on its own; it stands in a larger context. It provides the unusual opportunity to view the painting from a unique perspective, revealing aspects that would normally stay hidden from the casual viewer. When we discern the original painting in this three-dimensional reproduction, we recognize which features most significantly constitute the painting. Consequently this three-dimensional exploration of Picasso's Guernica is an innovative technique for comprehending and appreciating the original masterpiece.
Page: [ 2 ]
[

Views

: 2,876 | Refers: 0 | Prints: 155 | Rate: 0.00 / 0 Votes | Posts: 0]
Winter Olympics 2010. Romancing the Stone
February 03, 2010 - 21:40

STUDIO AKA have produced a stylized graphic trail and titles sequence for the event which is being held in Vancouver. Commissioned by the BBC, through Red Bee Media, the ...
Visual Effects with Particles
February 02, 2010 - 17:41

Matthias Muller started doing some graphic stuff some years ago. He learned from tutorials or articles published on the web and he is very interested in the Abstract CG Art, ...
Axis Animation Demo Reel
February 10, 2010 - 11:50

Axis is an international team of producers, directors, designers, artists and animators. The studio creates animation for some of the world's leading names in ...