Graduation film from The Animation Workshop, Viborg, Denmark.
Elk Hair Caddis is made with great inspiration from the work of the swedish company "Meindbender", "Tex Avery" and "Panic in the Village".
The Animation Workshop - Center for Animation is an animation institution in Denmark with activities within the areas of education, culture, communication and business.
It is an independent management unit under VIA University College, and has a strong network of international companies, artists and educations.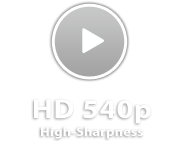 CREDITS
Directing, Rigging, Storyboard and Animatic, Animation, BG-Shoot:
Peter Smith
Directing, Character Design, 3D Models and Textures, Animation, BG-Shoot:
Magnus I. Moller
CG-backgrounds, Character Development, Storyboard, Animation:
Alice Holme
Matte-painting, Vehicles Design, Sets Building, Animation:
Anders Jepsen
More Information at:
www.elkhaircaddis.com
. Image and Video Courtesy of Peter Smith. Video Encoding: 3Dup.com