Front Page
Search
Popular
Off-Site
Free Content
My Visit
| | | | |
| --- | --- | --- | --- |
| Hardware | | | |
Graphics Evolves Beyond Gaming with New Nvidia Geforce GTX 200 Gpus
Revolutionary Processor Does Double Duty as the Most Advanced GPU Ever Built and a Second-Generation Cuda General Purpose Parallel Processor
| | |
| --- | --- |
| | 3Dup.com - June 17, 2008 - 21:02 |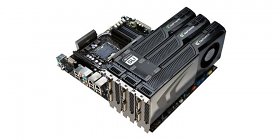 Imagine instead of taking over five hours to convert a video for your iPod, it only takes 35 minutesi. Imagine using your PC to simulate protein folding to help find a cure for debilitating diseases. Imagine that your PC can dramatically accelerate everyday tasks, and deliver an exciting visual experience in the process. Today that imagination becomes a reality now that the leader in visual computing technologies, NVIDIA (Nasdaq: NVDA), has introduced its new family of GeForceÃ?® GTX 200 graphics processors (GPUs) -which includes the GeForce GTX 280 and GeForce GTX 260 GPUs- taking graphics beyond gaming and gaming beyond anything that's ever been possible before on a consumer computing platform.
"The advances NVIDIA continues to make in visual computing are simply incredible, and we are excited to be one of the first companies in the world to offer the technology in the new Exhilaration Edition of the award-winning HP Blackbird 002," said Rahul Sood, chief technology officer, HP Voodoo Business Unit. "Exceptional graphics quality and performance is important to our customers, and now the GeForce GTX 200 GPUs are bringing something else into the mix. By using the GPU to enhance everyday applications such as video encoding and manipulating photos, HP Blackbird 002 is one of the most cutting-edge PC platforms ever designed."
Graphics Beyond Gaming
One of the most powerful processors in the PC is the GPU. Rendering 3D images in real-time is just about the most mathematically intensive task your PC will ever undertake, but it's not the only one. As PC applications become increasingly visual, many ordinary tasks will benefit from the graphics horsepower provided by the GPU, including encoding and playing high-definition videos, editing photos, getting driving directions off the Internet, or simply running a new operating system like Windows Vista.
Page: [ 2 ] [ 3 ] [ 4 ]
[

Views

: 3,793 | Refers: 0 | Prints: 249 | Rate: 0.00 / 0 Votes | Posts: 0]
Luxology Launches Education Provider Program
July 10, 2008 - 00:52

Luxology LLC, developers of modern, artist-focused 3D software, today announced its new Education Provider Program, which offers leading colleges, universities and 3D ...
The Gnomon Workshop Releases Two New Titles
September 05, 2008 - 00:12

The Gnomon Workshop announced the release of two new titles in their wildly popular -Behind The Scenes- series which gives an in-depth look at the creation of a game ...