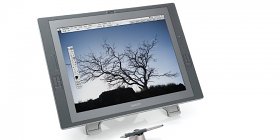 Not that long ago, animators sketched their creations on paper and then ran to the copy machine to scale things up or down. Fixes, revisions, or creating alternate versions were time-consuming chores. Big mistakes meant starting over completely.

"But it seems like a lifetime ago," says Antonio Gonella, Director of Production Technology at Cartoon Network Studios. Ever since he introduced Wacom's Cintiq interactive pen displays to the studio's animators, productivity and employee satisfaction have risen significantly. New storyboard versions can be created on the fly, experimentation is painless, and animators love being able to draw directly on the Cintiq's screen.


Everyone at the studio has become "Cintiq-centric," and the Cintiq is being integrated into all aspects of preproduction at Cartoon Network Studios (actual production is done overseas). Depending on how many shows are in production, between 80 and 220 artists work at the facility. Current shows in production with the Cintiq displays include "Transformers," "Chowder," "Foster's Home for Imaginary Friends," "Flapjack," and a "Powerpuff Girls" special (just completed).

Fortunate to have had a front row seat to the Cintiq evolution, Gonella reports that artists first used the Cintiq to clean up rough drawings in Adobe Illustrator. That quickly changed as artists began to appreciate the new workflow possibilities of drawing directly on the Cintiq's color-accurate LCD monitor, and the natural response of the digital pen.