Front Page
Search
Popular
Off-Site
Free Content
My Visit
| | | | |
| --- | --- | --- | --- |
| Miscellaneous | | | |
TGW Releases Gears of War Creature Design DVD
Jay Hawkins Works from Start to Finish on the Design for a Gears of War Creature Called The Locust Hydra
| | |
| --- | --- |
| | 3Dup.com - June 16, 2009 - 22:04 |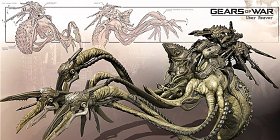 The Gnomon Workshop announced a new title in collaboration with Epic Games: Gears of War Creature Design with James Hawkins. In this DVD, James demonstrates his production techniques while designing an actual in-game creature from the Gears of War series by Epic Games. Viewers are treated to an inside look at the design techniques of one of the industry's most talented artists, as well as to his personal take on being a successful concept artist in a production environment. Filled with lots of useful tips for designing your next crazy looking creature, this DVD will be a great addition to your training library.


"Working with Jay was an Art Director's dream," said Jerry O'Flaherty, Art Director for Gears of War. "He always tries to find new twists to bring to the mix, both in form and composition of his concepts, but also in his workflow and methodologies. From characters to creatures to weapons, and even the iconic Crimson Omen, Jay's skills as an artist shine through in all parts of the projects he works on."
Page: [ 2 ]
[

Views

: 5,333 | Refers: 0 | Prints: 219 | Rate: 0.00 / 0 Votes | Posts: 0]
New Features in the Upcoming ZBrush 4
June 15, 2009 - 21:38

ZBrush gives you all of the tools needed to quickly sketch out a 2D or 3D concept, then take that idea all the way to completion. You can create realistic renders directly in ...
Assassin's Creed II. Cinematic Coverage
June 10, 2009 - 21:10

This Video Game is an upcoming sandbox-style action-adventure video game being developed by Ubisoft Montreal and published by Ubisoft, the sequel to Assassin's Creed. It is ...
Master Sample of 3D Modeling in Mudbox
June 17, 2009 - 20:42

Autodesk Mudbox combines an intuitive user interface with a toolset for creating highly-detailed 3D models. The software gives artists the freedom to create without worrying ...