Front Page
Search
Popular
Off-Site
Free Content
My Visit
| | | | |
| --- | --- | --- | --- |
| Software | | | |
Its Approach to Rendering is Based on Real-World Units and Settings
| | |
| --- | --- |
| | 3Dup.com - September 24, 2009 - 15:12 |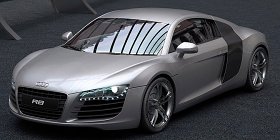 It is a rendering engine based on the mathematical equations governing light transport, meaning that all elements, such as emitters, materials and cameras, are derived from physically accurate models. Maxwell Render is unbiased, so no tricks are used to calculate the lighting solution in every pixel of a scene; the result will always be a correct solution, as it would be in the real world. Maxwell Render can fully capture all light interactions between all elements in a scene, and all lighting calculations are performed using spectral information and high dynamic range data.


Due to its very nature, Maxwell Render enables users to create accurate and extremely realistic images. Maxwell Render is a recognized standard in architectural visualization, product design, jewelry, film production, scientific research and other high-end rendering markets, and the leader in render quality.
Page: [ 2 ]
[

Views

: 3,184 | Refers: 0 | Prints: 185 | Rate: 0.00 / 0 Votes | Posts: 0]
Intel Showcases 22nm Wafer
September 24, 2009 - 13:02

Intel President and CEO Paul Otellini displayed a silicon wafer containing the world's first working chips built on 22nm process technology. The 22nm test circuits include ...
AMD Reveals the New ATI Radeon HD 5800 Series
September 23, 2009 - 12:01

AMD launched the most powerful processor ever created, found in its next-generation graphics cards, the ATI Radeon™ HD 5800 series graphics cards, and the world's first ...
Funny CG Short: Fruitless Efforts
September 25, 2009 - 01:15

Fruit of the Womb is a short animated film produced by Minneapolis-based studio Make, LLC. Written and directed by Aaron Quist and Andrew Chesworth, the short is currently ...