Front Page
Search
Popular
Off-Site
Free Content
My Visit
| | | | |
| --- | --- | --- | --- |
| Hardware | | | |
Nvidia Looking For The Next Great GPU Computing Company
Global Investment Program Launched to Fund and Support New GPU Computing Businesses
| | |
| --- | --- |
| | 3Dup.com - March 12, 2009 - 22:37 |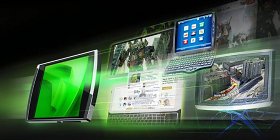 Nvidia Corporation announced the launch of the GPU Ventures Program, a new global initiative whose aim is to identify, support and invest in early stage companies leveraging the GPU for visual and other computing applications. Nvidia is also launching the GPU Venture Zone website, a portal to publicly showcase the innovative GPU applications being developed by its ecosystem partners.

"The GPU Ventures Program represents a huge opportunity for young ambitious companies basing their businesses around the GPU. These companies are the innovators that will fuel the continued growth of the GPU platform," said Jeff Herbst, vice president of business development at Nvidia. "Through this program we will provide financial, marketing and other support to help start-up companies realize their full potential and we strongly encourage interested entrepreneurs, venture capitalists and others to reach out to us with their ideas."

Through the GPU Ventures Program, Nvidia intends to evaluate companies that leverage the GPU for both consumer and professional applications in all areas such as video and image enhancement, scientific discovery, financial analysis and 3D interfaces. Investments are expected to range from $500K to $5Million, and strategic partnerships are expected to span joint marketing, joint development, product distribution and beyond.

"Nvidia's support, through investment, strategic partnership and joint marketing, has helped us to raise additional capital and gain customer visibility much more quickly," said Sam Blackman, CEO of Elemental Technologies. "We share Nvidia's passion for using the GPU as a parallel processor, for more than just graphics, and we actively encourage other companies interested in this exciting market to join the visual computing ecosystem."
Page: [ 2 ]
[

Views

: 2,403 | Refers: 0 | Prints: 262 | Rate: 0.00 / 0 Votes | Posts: 0]
WALL-E Director Speaks About the Awarded Oscar
March 02, 2009 - 21:53

We would like to remind the pronounced words in the Oscars event from its director: Andrew Stanton. "It's been such an inspiration to spend time with a character who so ...
Graphics Startup Claims Ray-Tracing Breakthrough
March 12, 2009 - 23:35

Caustic Graphics, a new 3D computer graphics company, launched a fundamental breakthrough in raytracing acceleration that is set to define a new era in professional 3D ...